Speakers for 2016
The following meetings will all be held at The Nottingham Mechanics from
6.00 pm to 9.30 pm. The speaker will be there from 7.00 pm until 9.00 pm.
The cost £3 per person unless otherwise stated.
Wednesday 13th January 2016
Workshop on Writing Short Stories.
Keith Havers will run another of his popular workshops on writing short stories which will include how to present your work for publication and competitions.
Wednesday 10th February
Christy Fearn.
Christy Fearn author of 'Framed' joins the Writers' Group to talk about her research for her writing. Research is vital for an author who writes historical novels, but it also presents many challenges: How much research do you need? What do you leave out? How do you deal with 'gaps' in research? Christy will be exploring these avenues and describing how she researched her novel 'Framed' about the Luddites. She will also be reading from her latest project; the sequel to 'Framed' called 'Notorious'. Copies of 'Framed' will be available to buy on the night.
Wednesday 9th March
Verse of the Year Competition.
This is our annual competition for our poet-loving members to write on the subject of Lies. Only members can enter but visitors are welcome to come along and vote for their favourite.
Wednesday 13th April
The Annual General Meeting.
Wednesday 11th May
Michael Payne on 'The Company of Comedians'.
Much of the background to this, Michael's latest novel, is centred on Nottingham's first Theatre Royal in St Mary's Gate which, in the century up to 1865, was the town's main place of entertainment. This is Nottingham's "Forgotten Theatre', which existed long before the present Theatre Royal.
The novel is set in the 1760s when fortunes were being made by many, including actor / managers, who were building ambitious provincial theatres. But the powerful Puritans regarded such places as Satanic, with players no better than rogues and vagabonds worthy of imprisonment.  Tom Hammond, a young army drummer, dreams of fame with the Company of Comedians. His quest is in turn comic and horrifying. Not only does he encounter love and jealousy, he must endure ridicule, assault and even suspicion of murder in the confusion of 18th century privilege and poverty.
Wednesday 8th June
Read and Write Night.
A chance for members and visitors to share their work for feedback, work on the subject for the evening (to be announced) and chat to other writers.
Wednesday 13th July
Peter Sterry on 'Presenting your Work to an Audience'.
Peter is a past President of Nottingham Speakers' Club and also of the National Association of Speakers' Clubs, so is ideally suited to give advice on presenting your work to an audience clearly and meaningfully - and with a light touch if this is suitable for the material.
Wednesday 10th August
Summer Party.
Wednesday 14th September
To be announced.
Wednesday 12th October
Read and Write Night.
Wednesday 9th November
Manuscript of the Year Competition.
Like Verse of the Year, this is a competition for members to write a short story up to 250 words. The theme is still to be decided but as always the stories will be read out by a panel of readers and the audience votes for their favourite.
Wednesday 14th December
Christmas Party and Awards Night.
Previous Speakers 2015
Wednesday 21st October 2015
Sci Fi Night
Anyone who loves sci fi in the East Midlands will know Alex Davis. As well as writing, publishing and event organising, he's the genius behind Edge-Lit in Derby. He's also organising this special evening and the general details are:
Alex and two local authors, Stephen Palmer and Gav Thorpe are the main speakers and the event runs from 6.00 pm to 9.30 pm at our usual venue, The Nottingham Mechanics in North Sherwood Street. The evening will be a chance to meet the authors, ask them questions, listen to readings, get advice, buy novels, etc. Full details of the programme will be available soon and if you'd like to be kept up to date by e-mail, please let us know via our Contact Form. Every ticket holder also gets a goodie bag.
If you're a member of Nottingham Writers' Club, you don't have to pay but you will need to reserve your seat as places are limited.


Book Now
Tickets bought in advance are £5, bought on the night £7 and payment can be made on-line now. If you'd prefer to pay by cheque or postal order, you can get details on how to do this via our Contact Form.
There will be a full programme during the evening of talks, Q and A sessions, readings and a chance to buy books and talk to the authors.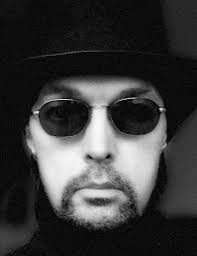 Stephen Palmer
Stephen lives and works in Shropshire, UK. He is the author of nine SFF novels: Memory Seed (Orbit 1996), Glass (Orbit 1997), Flowercrash (Wildside 2002), Muezzinland (Wildside 2003), Hallucinating (Wildside 2004) and The Rat & The Serpent (Prime Books 2005). In 2010 PS Publishing published his Urbis Morpheos ("… a supremely odd yet deeply rewarding experience.") In 2014 Infinity Plus Books published his surreal slipstream steampunk novel Hairy London, and in 2015 his new philosophical thriller Beautiful Intelligence. A novella No Grave For A Fox is forthcoming from Infinity Plus Books. His short stories have been published by Wildside Press, Spectrum SF, NewCon Press, Mutation Press, Eibonvale Press, Solaris, TFQ, Unspoken Water, Kraxon Publishing, Tickety Boo Press and Boo Books. Further short stories will appear in 2015. Typically Stephen's work is far-future and ecologically minded, but he has also written near future work, including Muezzinland and Beautiful Intelligence, both of which have strong links to Africa. His favourite authors include Gene Wolfe and Jack Vance, Gwyneth Jones and Ursula LeGuin, China Mieville and Philip Pullman. He likes Wales, cats, Steely Dan and The Simpsons.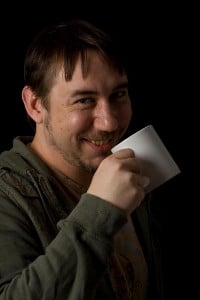 Gav Thorpe
Joining Games Workshop at the age of nineteen, Gav was a staff writer and games developer on the Warhammer and Warhammer 40,000 universe for fourteen years, and has also written novels for the same for the past fifteen years and more. His most popular works include The Sundering trilogy, The Path of the Eldar, works from the Horus Heresy series including Deliverance Lost, the audio dramas Raven's Flight and Honour to the Dead, and the New York times best-selling novella The Lion. He is also published by Angry Robot books where you can find his epic swords-and-sandals fantasy saga gathered in the omnibus collection entitled Empire of the Blood. Gav has also worked on, and is currently working on, numerous tabletop and video games, including as a designer, writer and world creation consultant. He lives near Nottingham with his partner Kez and baby boy Sammy.
Alex Davis
Alex is an author, editor, publisher, creative writing tutor and events organiser based in Derby. His debut novel, THE LAST WAR, is out in July from Tickety Boo Press and is the first in a science-fiction trilogy following the aliens of the Noukari. He is co-ordinator for Derby's annual Edge-Lit event – running this year on the 11th July – and also part of the management committee for this year's Derby Book Festival. He also runs Boo Books, Derby's independent press, aiming to promote regional talent alongside internationally known authors. Their latest release is The Electric, available in paperback for the first time. For more information, visit http://boobooks.net/ and https://alexblogsabout.wordpress.com/
Wednesday 7th January
In-House Workshop on Point of View.
This is a subject that many writers find difficult so during the two hours we'll be looking at the merits of first person vs third person, third person limited vs third person omniscient and the ways of using the narrative voice to really get to know the characters. A lot of people don't realise when they're 'head-hopping' but a professional agent, editor or publisher always will.
We'll be using examples from published books as well as setting exercises to illustrate the above.
The cost to visitors for this mini workshop is £3 which will include printouts.
Wednesday 2nd February
Duncan Pile on E-Publishing
This is a subject an increasing number of writers are interested in, and a meeting no writer can afford to miss.
Duncan, in his relaxed style, will talk about all aspects of the above and will welcome questions and discussion to get the maximum value out of the session for everyone. Topics will include
Advantages and disadvantages of e-publishing
Self-editing
Proof reading
Who do you pay and who do you turn away?
Is it worth creating a paperback?
Taxation, home and abroad
Getting the formatting right
How do you harness the power of feedback?
E-publishing as a route to traditional publishing.
Wednesday 4th March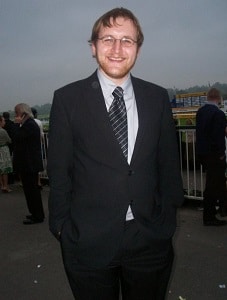 Alex Davis - On How to make the most of literary festivals and events.
'There is a thriving scene of literature festivals and activities in the East Midlands, and indeed nationally. But how does a writer make sure to make the most out of these, be it as a panellist or speaker, or an audience member? Join publisher, editor, author and event organiser Alex Davis for a session exploring how to ensure that literature events boost your writing career.'
Wednesday 6th May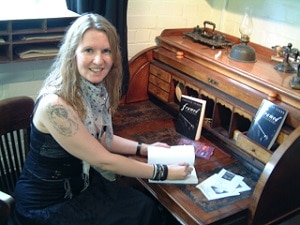 Christy Fearn
Christy will talk about her work and inspirations and will be happy to answer any questions.
Biography
Christy was brought up in Lord Byron's childhood home town of Southwell. From an early age, when she visited Newstead Abbey, she was fascinated by the local poet who had a tomb made for his beloved pet dog. She studied English Literature and Drama at Clarendon College and then York St. John University, where she wrote her dissertation about William Godwin, Mary Wollstonecraft, Byron and the Shelleys.
After graduating, Christy performed in the play ?'he Weathercock' which toured Greece as part of the Britain and Greece festival. The play was a revival of the production in which Byron himself starred in 1809, before he went on his Grand Tour.
More recently Christy has given talks about Byron, Shelley, Coleridge and Mary Shelley as part of Lowdham Book Festival and the International Byron Society Festival. She has written a novel Framed about the Nottingham Framebreakers. Byron is a character in the novel, stepping in to aid the local Luddites and making his maiden speech in the House of Lords.
Christy has a passion for local history and literature, supporting the campaign to keep Newstead Abbey open, she aims to raise the profile of Byron as a local author.
Christy Fearn's Facebook account
Christy Fearn's Facebook pages
Framd: A Historical Novel about the Revolt of the Luddites
Christy Fearn's blog
Order a book directly from website: www.open-bks.com
Wednesday 1st July
David Brailsford
David was born in Nottingham, England in 1930 and was educated at the High Pavement Grammar School. He qualified as a psychiatric nurse in 1955 and worked in this field until his retirement.
He now spends time writing and telling stories, performing at the Nottingham Storyteller's Club (now renamed Tales from Two Cities) and now writers about Jamaica and other tales.
Later in the year, the very popular speaker and screenwriter, Chris Morgan, will be giving another talk on his subject.
Previous Speakers
September 2014
Ann Evans, children's book writer
Ann recently did an all day workshop which was a fascinating insight into the writing of children's books from picture books up to Young Adult fiction. We learned a lot that day so we're looking forward to finding out even more on this evening.
See the report of Ann's workshop.
August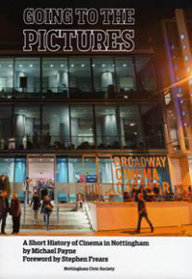 Summer Party - with Michael Payne
This is the date of our Summer Party to which members and visitors are welcome. As well as the usual opportunity to get together and chat, this year we?re also having something different.
One of our members, Michael Payne, has had a book published entitled 'Going to the Pictures' and he'll be giving an illustrated talk remembering the city's many picture palaces, their films and memorabilia from their birth in Victorian Goose Fair to the present day of multiplexes.
If you love films and Nottingham's history, you won?t want to miss it.
There will be a small charge to cover the cost of the food provided.
July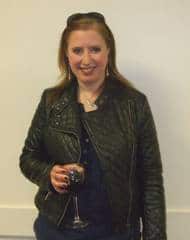 Alison Davies, local writer
Alison comes most years to one of our speaker's evenings and every time she has something new and interesting to say. She writes articles, stories and is a member of a local story telling group.
See the write up of her talk in June last year.
June
Chris Morgan, film scriptwriter
Chris has been a screenwriter since 2003. He used a grant from EM Media (funded by the European Social Fund) to undertake training in film, including screenwriting, directing and producing, with Raindance Film Festival in 2005.
Despite a number of screenplay sales, options and assignments, Chris' career as a screenwriter looked like it was never going to happen. However, he got made redundant in the round of public sector cuts in 2011 and this provided him with the perfect opportunity.
He took six months out of the rat race just to write, went to the Cannes Film Festival for the first time, made some good contacts and left with a paid writing assignment. He'd arranged to meet a film producer there who asked him to write a treatment (outline) for a horror film which the producer liked so much he asked for the full film script. Chris is currently finalising this project 'Reunion in Hell', which is scheduled for filming this year, possibly in Eastern Europe.
During the six months he took out, Chris wrote 3 new scripts and it was during that period that Chris' work dramatically improved and he learnt how to write screenplays effectively. There are two more projects officially in development ? The Robbin Hoodies, a modern update of Robin Hood, and The Hanging Tree.
Both of these projects are the subject of funding applications to Creative England's iFeatures programme. Chris also completed another paid screenwriting assignment recently, a psychological thriller, 'Coldheart Creek', an original screenplay of his own for an American producer.
Chris believes that it is difficult to sell film projects now without the benefit of a novel and Chris has turned his hand back to his first love, novels, and plans to write a novel version of each of his film projects in order to help them sell.
May
Gail Simmons, travel writer
Gail is a travel writer who has travelled widely and has written for many UK and international publications.
Gail's credits include articles in TIME magazine, the Telegraph, Observer, Guardian, Times, Sunday Times Travel Magazine, Wanderlust and CNN Traveller. She has also broadcast on the BBC radio's flagship travel programme, Excess Baggage, and From Our Own Correspondent.
Before becoming a full-time travel writer, Gail studied for a Masters degree in Medieval Studies, lived in a medieval Cumbrian castle, listed historic buildings for English Heritage and led walking trips in Europe & the Middle East.
As well as relating her own experiences, she will be talking on how to give a sense of place to your writing.
March

Andy Barrett, playwright and storyteller
Andy had to cancel last year because of work commitments, so we're delighted that he's been able to re-schedule.
He's a children's writer, a playwright, a short story writer and story teller. His work includes BBC commissions and many theatre productions and his work has won awards. Not an evening to miss.