December 2013 - Christmas Party and Awards Evening
Christmas Party and Awards Evening.
Every year we award annual trophies to our members and in 2013 these were the winners.

The Ena Young Award for the most prose points won during the year

Ian Christie

The Joyce Towers Cup for the most poetry points won during the year

Jennie Searle

The Dai Orridge Cup for the Most Promising Newcomer

Michael Payne

Winner of the annual Verse of the Year competition (held in March)

Pat Murfet

Winner of the annual Manuscript of the Year competition (held in November)

Michael Payne

The Rosemary Robb Cup award for the best ghost story

Mars Hill

The Dolly Sewell Trophy award for a piece of non-fiction

Elaine Brown

Jubilee Cup award for a story suitable for radio

Michael Payne

The Kathleen Clark Award for the best children's story

Keith Havers

The Little Moe Award for a stage play

Mars Hill

The Gwladys Bungay Rose Bowl award for the best novel

Glenis Wilson

The Writer of the Year is given to the person with the best prose in the previous four editions of Scribe

Carol Bevitt

The Edith Spencer Cup is given to the person with the best poems in the previous four editions of Scribe

Jennie Searle
November 2013 - Manuscript of the Year Competition
Manuscript of the Year Competition
The winner this year was Michael Payne,
2nd Viv Apple,
Joint 3rd Leatta Antcliff and Pat Murfet.
October 2013 - Speaker - Keith Havers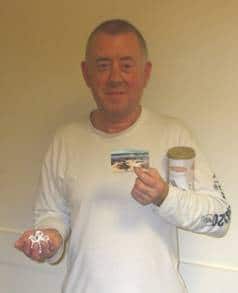 Let's Get Creative - Again
By Keith Havers
When I had the phone call to say that Chris Morgan wouldn't be able to give his talk in October and we needed a replacement I was very disappointed. Like the rest of the membership I had been looking forward to hearing about his life as a writer and his experience on the red carpet at this year's Cannes Film Festival. Now I was being asked if I could step in and arrange a writing workshop with less than a week's notice.
Fortunately I had run such a class back in January and already had the basic materials. Nevertheless I was still feeling a little apprehensive. Would word get around the membership in time or would a lot of people turn up expecting to hear the words of a successful scriptwriter? Would the attendance be down because of the change to the schedule? In the event my negative thoughts were doing a disservice to our loyal members. We had a decent turnout and most had brought along their notepads and pens in anticipation of a busy evening.
At the January session I had given the attendees three alternatives based on the exercises that we do at my other writers' club, Trowell Writers' Trust. These drills are put together by our leader, Bromwyn Hayes, and she was happy for me to duplicate them for NWC.
The first challenge involves combining pictures and headlines which have been cut from magazines and newspapers. The idea is to create a story based on the two themes.
The second exercise is simply to create a story based on a racehorse name.
The third exercise uses the set of dice known as Rory's Story Cubes which are intended to stimulate the imagination. Several versions are available on Amazon.
For the October workshop, I gave the members the same three options once again but I also wanted to offer them something different,
Again, this was based on one of Bromwyn's ideas and involves yet another batch of paper slips, on each of which is written the synopsis of a feature film in a few lines. Some of them may be recognisable such as: 'An astronaut crash-lands on a planet ruled by talking apes' or 'A resourceful youngster fends off two burglars who break into his home'. But that's not important. The idea is to pick two slips at random and marry the two together into one story. This can result in some amusing pieces of work, such as a swashbuckling adventure set in outer space or a romance between two werewolves.
Just as they did in January, the members took up their challenge with enthusiasm and many of them created pieces of writing that were well worth polishing up and completing at a later date. Why don't you try some of Bromwyn's techniques at home and Carry On Creating!
September 2013 - Speaker - Ash Dickinson
Ash Dickinson
Ash Dickinson is a writer, poet and performer. He's won competitions including the BBC Radio 4 Midlands Slam in 2009, toured in the UK and abroad, and had a four-star rated one man show at the 2004 Edinburgh Fringe. He's appeared in many poetry festivals and been widely published in newspapers, magazines and poetry presses.
Ash's debut collection, "Slinky Espadrilles", was published in May 2012 by Burning Eye Books.
And yet Ash says he's not an extrovert and has had to get used to the performing side of his work. At first he didn't like poetry but found that writing it was a great way of working through problems and urged us to do the same. Use poetry to get problems into the open and work them out.
He regularly goes into schools where he finds children don't like poetry. They're not alone, as a lot of people are frightened of the P word. At one time, just the mention of it would make people disappear out the door, but thankfully it's different now and, at Cheltenham in 2012, 450 went to a poetry show. He now goes into schools up to four times a week as he wants to show kids that poetry is not the enemy.
Ash performed some of his poems which were very entertaining then told us that the evening wasn't all about his work. We were going to write some of our own. The non-poets amongst us quietly groaned.
First, what is a Haiku? A three line poem with a set number of words in a strict format. 5, 7, 5.
The subjects he gave us to choose from were:
No signal, no hope
Build a sandcastle
First penguin to fly
Parachute opens
Me? I know no fear
Before you read on, why don't you try it yourselves?
As we were writing our poems, Ash came round to everyone, checking we were okay and offering advice and being very encouraging, even when we thought we were making a mess of things. People read out their work and several were surprised to find they could actually write poetry.
We also tried other forms of verse, each time choosing from a list of suggested themes or words.
P might be for poetry but this evening was also about P for performance and P for personality, which Ash has in abundance. No words here can do justice to the enjoyment that combination gives to an evening, so suggest that, if you get the chance, go and listen to his work.
For all the information you could want about him, visit his website:
August 2013 - Party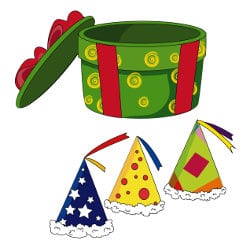 Party
July 2013 - Speaker - Miranda Seymour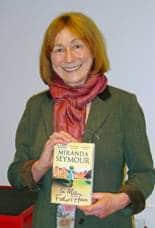 Miranda Seymour
on Sleuthing and Biography
Miranda is a novelist, biographer and reviewer who lives and works in London and is the current owner of her ancestral home, Thrumpton Hall.
Her interest in biographies grew when, as a young woman, she chose to live in Greece for a while where she studied the history of Sparta and the life of Helen of Troy. For her biographical work, Miranda has always written about people that she wishes to champion; individuals who have been neglected or dismissed as unimportant.
Life On A Grand Scale, one of Miranda's first non-fiction books, was about the aristocrat and society hostess, Ottoline Morrell, who was very much involved with the Bloomsbury Group of writers and intellectuals. Having approached her publishers with the idea and claiming that she could obtain access to prime source materials, Miranda was frustrated to find that the woman who owned these journals was vague as to where they were located. It was only upon the death of this person that she discovered they had been in a trunk only a few feet away from where she had been interviewing her. Fortunately, she was then given free access to the vital information, and amongst the profusion of papers found a lock of Ottoline's hair stuffed into an envelope. To hold such a memento in her hands made the delay worthwhile.
In contrast, for Life On The Edge, her biography of novelist and poet, Robert Graves, Miranda had the full co-operation of his family. A particularly useful source was the widow of Graves' secretary, who gave her a ring which had belonged to Graves' mistress, Laura Riding. Within weeks of putting this ring on her finger several personal disasters befell Miranda, including her husband leaving her and her mother being diagnosed with cancer. After removing the ring her luck changed dramatically, and although she is not particularly superstitious Miranda then donated it to the Robert Graves Foundation at St John's College, Oxford. So she will never know whether or not Laura Riding was a witch.
A poster of a beautiful blonde girl at the wheel of a racing car led Miranda to write The Bugatti Queen, the life history of Hellé Nice. Born Hélène Delangle, she was a skier, dancer and stripper but was most famous for her exploits on the racetrack. Research for this book involved travelling to New Jersey, USA, in order to study Hellé's album of souvenirs and letters and to drive the actual Bugatti that featured in most of the photographs.
Unfortunately most of the material in the album was merely press cuttings but a further trip, this time to Nice in the south of France, Miranda tracked down the daughter of Hellé's landlord who had a suitcase full of letters, photographs and films. On moving north to Hellé's birthplace, Chartres, Miranda was unable to find accommodation and was reduced to sleeping on a park bench until a good-hearted policeman came across her and found her a cell for the night at the station.
Writing In My Father's House, a memoir about her own late father, presented a unique set of problems for Miranda as her mother was still alive at the time. She wanted the voice of the book to be her mother's but found that sometimes her father was described as 'a good husband' while at other times was told 'he was impossible to live with'. On presenting her mother with the published book and waiting for her reaction, Miranda's anxiety dissolved when her main criticism was that she'd made an error in describing her nail varnish! Writing this memoir was exhausting but, although the ghosts of her past were not immediately exorcised, Miranda found the task fulfilling in many ways.
Miranda's latest work, Noble Endeavours, to be published in September 2013, covers the history of England and Germany and poses the question - should a few years of hostility during the 20th century blight a relationship that has lasted over four hundred years? A relationship that has, in the main, been one of cooperation and friendship. Miranda's interest in Germany derives from a famous story of Adolf Hitler being run over and almost killed in a road traffic accident in Munich in 1931. The driver was Miranda's Uncle John who, had he been a fraction of a second late in applying the brakes, might have prevented the outbreak of World War Two. John eventually married the youngest daughter of the family. Miranda was unaware of this German branch until her brother returned from a trip to Munich having learnt of their existence.
Miranda's exploits and experiences while tracking down information and witnesses for her books would make a fascinating publication in its own right, and her infectious enthusiasm made for a very special evening.
June 2013 - Speaker - Alison Davies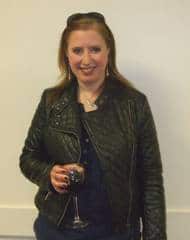 Alison Davies
It's always a pleasure to have Alison Davies come to speak at Nottingham Writers' Club as, apart from being a lovely and interesting speaker, she also used to be a member of NWC, and is now a successful published author, thus proving there's hope for the rest of us!
Alison started her talk by saying that being a member was a pivotal part of her writing journey. She came to the meetings, listened to the talks and learned so much from them and other writers.
She has always loved writing and started with poetry, including one for a competition in the NEP . After she'd written it, she didn't think it was good enough so put it to one side, and was shocked weeks later to get a phone call to say that she'd won. Her mum had sent it in for her.
This spurred her on to taking writing more seriously and has just this year become a full time writer.
As she loved horror and dark fiction, she decided to write stories in that genre. She researched magazines and small presses, joined The Storytellers of Nottingham and gradually put a portfolio together. These stories earned her the nickname of Scary Allison. She was approached by a publisher who put them into a collection called Small Deaths with a foreword by Graham Joyce.
From there, she moved onto longer works, and a novel sent to Christopher Little (who represented JK Rowling) got an exciting response and an invitation to London, but by the time she went the market had moved on and the book wasn't accepted. 'King of the Birds' was, however, published in 2005 by Bluechrome.
Alison became interested in the educational side of writing and has written several books on the subject of introducing stories to children. She works in schools and libraries and also gives workshops in universities.
She pitched to magazines, got an article accepted and said it was wonderful to get the payment cheque. She now writes regular columns for three magazines and has a portfolio of articles.
The life of a writer is full of ups and downs, and that's one of the things she loves so much. Never knowing from one week to the next what she'll be doing. When things are going well, she feels inspired and is elated when work is accepted and she sees it in print. Other times, it's depressing when the words don't flow, she can't get it right and it hurts to get rejections for a piece of work she's put her heart and soul into.
She reminded us that writers must never give up. They need to be flexible and able to work on different things at the same time. If one thing isn't working, go on to something different and never be afraid on criticism. She recounts how the first rejection letter she received for a novel was four pages long which, at the time, she thought was dreadful. She now realises the editor intended it to be helpful and encouraging.
When asked about using social media, Alison said that she considers its use very important. All writers now have to be ready to publicise their own work and present the best version of themselves. Publishers expect this. Marketing yourself is a skill most of us have to learn, especially how to approach editors, etc. Learn the skill of being polite and never annoying.
Writers are always selling something and nowadays it's more important than ever to be able to sell themselves . Alison has a Facebook page and is developing a website and stresses it's important to get as much information out there. Publishers expect this level of commitment from authors so do whatever you can to let them know what you can do.
After the break, Alison gave an exercise that she's used on courses at universities. Think of an experience you've had, write a few paragraphs about it then consider how you would market it as the next big blockbuster movie. Write a tag line, decide what to put on the poster, do a short write up that gets people interested. Sell your story in as few words as possible.
If you don't want to use the movie idea, turn it into a newspaper report instead. This is a great exercise to do if you're struggling.
Alison finished her talk by saying that stories are paramount to human nature, it's how we connect with each other, how we bond.
May 2013 - Speaker - Phil Austin
A Journey through Hardy Land
with Phil Austin
Report by Mars Hill
I was one of the few people in the audience who'd never read Hardy so saw myself as only being there to take notes for the club magazine Scribe. However, after a very interesting illustrated talk by Phil I'm thinking I'll give them a go as it's always more interesting to read the books when you know something about the author.
Hardy was the son of a stone mason in Beckhampton House where he'd later write Under the Greenwood Tree and Far from the Madding Crowd.
He trained as an architect and moved to London for a while be but was always interested in social injustice, particularly in how women were treated. Like Dickens he was very critical of Victorian Society, and also like Dickens his novels were serialised before being published as books.
In Victorian times, women had very little power and their only real say in how they led their lives was whether or not they married, so he was popular with the ladies as a feminist writer as he wrote about how hard their lives were. There is not a lot of happiness in any of Hardy fourteen novels (and at one point Phil did say he wondered why he read them).
Far from the Madding Crowd was published in 1874 with a 'thigh slapping' hero and a hard done to heroine. This was the book that made him popular, was well received by the critics and was his first really successful novel. It was made into a film in 1967 starring Terence Stamp, Julie Christie, Peter Finch and Alan Bates.
Mayor of Casterbridge was published in 1886. It's the 'study of one man's deeds and character' and the real town of Dorchester was used as the setting for Casterbridge. Michael Henchard is a good man who does his best and yet still becomes a tragic hero. This has been televised.
Tess of the d'Urbervilles 1891 is a story of a feisty young girl who's life is made miserable by the advances of two suitors. This novel is considered to the Hardy's best and has been translated into numerous languages and it was made into a film starring Natassja Kinski in 1979.
Despite his increasing success, Hardy was always sensitive to criticism and after Jude the Obscure in 1895 'aroused a storm of protest on the grounds of its alleged indecency' and the Bishop of Wakefield burned his copy, the author decided to give up writing novels and concentrate on poetry.
By the time the talk ended, I was thinking it was amazing that an author could have had such a lasting legacy, not only through his books but because of the changes that came about to English geography.
His novels are set in Wessex, an area of England that hasn't existed for about a thousand years (but don't tell the Duke and Duchess that!). Hardy's boundary for this resurrected but fictional county include all of Dorset, Wiltshire, Somerset, Devon, Hampshire, much of Berkshire, and some of Oxfordshire, with its most north-easterly point being Oxford.
Thanks to him there is a thriving tourist trade with many visitors going to 'Hardy Country' each year, and there's even a Wessex Regionalist Party. His books were set in real places but he didn't always use the real names such as Port Breedy which was actually Bridport and Christminster Oxford.
Hardy died in 1928 and was inhumed in a way that was worthy of his fiction. His wish was to be buried with his first wife Emma in Stinsford but his executors decided otherwise. They had his heart removed to be buried with Emma but the rest of his body was cremated and his ashes interred in Poet's Corner at Westminster Abbey beside the grave of Charles Dickens. Nice one!
April 2013 - AGM and Social Evening
March 2013 - Speaker - Heather MJL Watson
Heather MJL Watson
Heather started writing when she was a young child and used to show her stories to her Aunt Hilda. She can't remember doing it but does remember always loving books, and read Lord of the Rings when she was only eight.
Like many people, she stopped writing when 'life got in the way' but was inspired to write a book after reading the Twilight stories. She based the novel Bluebell Cottage on Irish folklore stories of the Sidhe, a race of fairy folk and used ideas she had from a recurring dream over three nights.
She knew she wanted it to be about fairies, based in the British Isles and using Celtic characters. Although she's never been to Ireland, she set the story on Kilarney, and has a lot of Irish friends who say she's 'got it right'. When she wrote the book, she was surprised at how easy it was and, despite the fact it was originally only intended for friends and family, was urged by them to try and get it published.
The first agent rejected it because it was 'unbelievable' - a strange comment on a fantasy book - but it was later published by H and S who gave her a three book deal. Unfortunately they then went out of business and she decided to self publish the second, Thistle Lodge, and chose Troubador Publishing because they distributed world wide. She needed this because, thanks to her hard work in promoting herself via web based social media, she now has many fans all over the world aged from 9 to 90. Her books are available in book form or for Kindle.
The third book, Buttercup Place, is well on its way helped along by Red Bull and a sixteen year old daughter who'll cook dinner when her mum's busy writing. This is the same daughter she 'killed off' in her first book and admitted when she wrote that scene it made her cry. Her books are marketed as Young Adult Fiction because of the lack of bad language and sex. She knew if she included these her mother would have told her off!
When her new contract came, she examined it carefully with her brother's help and removed such things as 'film rights' and 'merchandising rights' which she's retained for herself. Heather advises all writers to do this and to get help from The Society of Authors, an organisation you can join as soon as you've signed the contract. Heather can't praise them enough for the help they gave her.
Heather had been made redundant when the first book came out which gave her the time to work on marketing and do book signings. She has a novel way of doing this because, instead of sitting at a table and waiting for people to come to her, she takes her books around the shop and introduces herself. She admits this is easy for her because she's worked in sales.
This sales experience also gave her the confidence to phone the publisher on the day after she'd posted her manuscript to ask if it had arrived. This surprised them because very few authors do this. (Perhaps we should)
Heather gives a lot of talks to school children, is happy to admit she only got a C in GCSE English and didn't go to university, and hopes this will inspire them to write. She also gives interviews to magazines and on the radio.
What should have been one book has turned into three, and maybe four, and a well known script writer, Pamala L Hall, is working with Heather to get them made into films. Heather is very excited about this and has regular Skype talks with Pamala in New York (another way the internet helps authors) although she admits it could be years before the film is made.
Heather also uses the internet to do her research. The Sidhe (pronounced Shee) legends are well known in Ireland but not so much in England so research has proved very time consuming as she has to follow links from other sites. One surprising link she found was to a Cherokee story from the USA, a tribe that has similar legends and she was able to use this in Thistle Lodge.
As a single mum, Heather has to work full time and fits writing round that, her daughter and her family. She says her annual holiday in the South of France gives her welcome down-time although she always has a pen and pad by her side.
You can find out a lot more by following these links:
www.heathermjlwatson.com
www.sidhemovie.com
www.troubador.co.uk/book_info.asp?bookid=1755
February 2013 - Speaker - Andy Smart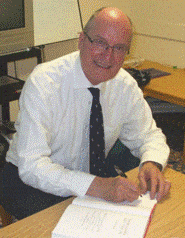 Andy Smart
It was a pleasure to welcome journalist, Andy Smart, to the Club as a speaker. His talk was on How to Impress an Editor and he began by talking about editors he'd worked with. One in particular stayed in his mind. He had his interview, got the job, worked on the paper for years and never had another meeting with the man while he was there.
It's the editor you have to impress if you want to be published in his paper. At one time, local papers employed hundreds of people and their own reporters did the reporting - and a lot of drinking in the pub at lunchtime - but now, with circulations falling, they are prepared to accept more from outside writers. They probably won't pay those writers any money, but if you want to see your name in print, this is a good way to do it.
Andy has been in charge of the Bygones supplement of the Nottingham Post since its beginning and always welcomes stories. He says he'll 'bite your hand off' if you send in a good one, but these stories have to have relevance to the local area.
Research is much easier now thanks to the internet and he recited a couple of examples he'd used.
One was about three boys, linked by the fact they all went to Minster Grammar School.
The first was Terence Longdon, an actor, who first came to fame in 'Carry on Sergeant' and went on to appear in three more 'Carry On' films. He came from Newark. The second was pop star William Drury who became Shane Fenton and then became Alvin Stardust. The third was Harold Thomas Cotton. His claim to fame was nothing like as visual but he helped rescue over 700 people. He was a radio operator on the Carpathia in 1912 and just as he was about to go off shift he received a distress call from the Titanic. He reported this to the Captain and, although they were hours away, the Captain made the decision to steam in the direction. If he hadn't done that, many more people would have perished.
The Post was started by Thomas Forman who came to Nottingham from Lincoln in 1878 looking for a business. In its early days, it had seven editions per day and we saw pictures of the old printing presses when the typeset was done with lead letters, fixed on a block backwards and a sheet printed so it could be checked. Very different from today when it's all done with computer technology.
Throughout his talk, Andy showed pictures from the huge collection he now has from producing the Bygones supplement.
A couple of times they were relevant to the Club when Carol Bevitt said, we used to meet in that building. One was an old cinema and the other in the much lamented Black Boy hotel.
There are many subjects for stories such as royal visits, old cinemas and streets that disappeared when new developments took their place such as Broad Marsh which now only lives on in the name.
Celebrities are always good for a story and a lot have come from our area. Barry Foster from Beeston, Richard Beckinsale from Chilwell, the opera singer Constance Shacklock from Top Valley, Donald Pleasance from Workshop. Michael Jayston from Dunkirk, Leslie Crowther from West Bridgford and Sue Pollard from Radford.
Since retiring, Andy has continued to produce Bygones but has also written a couple of books.
One was inspired by photos of soldiers that he's collected over the years. It's called 'Their Names Will Live On' and tells the stories of 60 unsung war heroes spanning conflicts from World War I to the Afghanistan. Andy has interviewed a lot of these people for Bygones. If you're interested in buying a copy of the book, they are available from the Royal British Legion and proceeds go to them. So far, Andy's raised £1,200.
All in all, it was a fascinating evening.
January 2013 - Speaker - Keith Havers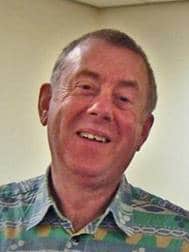 Let's Get Creative
by Keith Havers
Because of the vagaries of the British weather during January and possible travel problems, it was decided not to have a guest speaker on the first Wednesday of the New Year. Instead, NWC decided to run their own workshop and asked Keith Havers to do the honours. This is how it went.
Having mentioned the creative exercises we do at my other writers' club in Trowell, Carol asked me if I could try them out and see how the members coped with them. As it turned out, the members surpassed all my expectations.
I wanted to keep the event light-hearted and informal and so assured the attendees in my introduction that there were no hard-and-fast rules for the evening. A set of exercises had been prepared for them and, although they were encouraged to step outside their comfort zone in order to gain the maximum benefit from the drill, they were at liberty to do whatever they wanted for the evening. They could do fiction, non-fiction or poetry. Also, I didn't want people stuck in their seats for two hours just scribbling away. The idea was to make it more vibrant and dynamic than that. To that end, I didn't place the exercise materials on the tables in front of us but spread them around the periphery of the room on coffee tables so that they would have to move around to choose their workout. There were three to choose from.
The first challenge involved a set of pictures cut from various magazines and a set of headlines, also from several glossies. The idea was to choose at random a picture and a headline from each set and then try and combine the two themes that these extracts suggested into a piece of writing. It was emphasised that, if anyone didn't like what they had picked, they could just make another selection. There was no such thing as cheating on this occasion.
The second exercise consisted of about eighty slips of paper each with a racehorse name printed on it. The object was simply to pick one and create a piece on the theme that the name invoked.
Thirdly, I had recently purchased a set of Rory's Story Cubes from Amazon. This is something I had seen endorsed on one of the writers' blogs that I follow and consists of nine dice, each face having a different image printed on it. The aim is to throw the dice and tell a story which connects the face-up pictures. A light bulb, a set of scales, a clock face and a mobile phone are just four examples of what symbols are represented. With fifty four images in total there are over ten million combinations. Again, members were encouraged to use the cubes however they wished. It was suggested that throwing just three or four would be sufficient for the limited amount of time available.
The members took up the challenge with enthusiasm and were soon engrossed in creating their pieces of work. After about forty minutes we had a brief pause so that, if they wished, people could read out what they had done so far and obtain feedback from the rest. Several pieces earned rounds of applause from the others.
After a break for fresh drinks and the raffle draw we started again. Members were told they could try a different exercise or carry on with what they had already started. After the second round of readouts and feedback it was clear that many attendees were managing to create pieces of work that were well worth polishing up and completing at a later date. Veronica , having picked up a picture of a plastic duck, managed to write a short story, based on a real-life event about a toy duck dressed as Elvis. Mars picked a racehorse called Five Rivers and a picture of some goldfish. From this she came up with the beginning of a children's story with a Chinese setting. One of our visitors drew the racehorse name Lay Of The Day and produced two different stories with that same theme.
I was particularly pleased that attendees had entered into the spirit of 'anything goes' and combined some of the exercises. Some had picked a racehorse name and a picture. Others had thrown some dice and combined that with a headline or a picture. Everyone seemed to have enjoyed the experience and I hope this will inspire them to try some of these techniques at home and Get Creative!